Read the latest horse and equestrian news from around the world. Including barrel racing, showjumping news, eventing, show results and horse welfare updates! Select from the category list, the equine news you want to read about!
---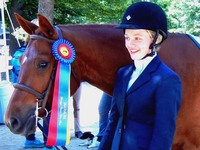 On April 22nd Holland NIevergelt traveled to the Pines Horse show in Connecticut to compete in the Green Pony Hunter division and attempt to qualify her pony Glynhafan Red Kestral for Pony Finals in Kentucky. They ended up reserve champion and qualified in their first attempt. Unfortunately her pony was not "recorded" as the owner was sure he was lifetime recorded by ...
---
1 WAS WONDERING IF YOU WANT ANY NEWS FROM NOVA SCOTIA CANADA WE HAVE SOME REINING AND TEAM PENNING ALSO BARRLES AND POLES NEWS IF YOU WANT TO PRINT IT
---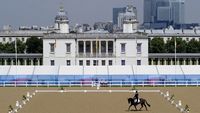 They didn't have to absolutely, positively get them there overnight, but when the U.S. Equestrian Federation sent some of its horses to London for the Olympics, it was a special delivery. The elite U.S. three-day eventing equine squad landed in London on Monday on a FedEx flight, having taken the red eye from Newark, N.J. They're not the first competitors to arrive as the countdown to...
---
The first season in the books, horse racing begins its second season Saturday. The Triple Crown dominates the sport's first season, of course, and with all its focus on jewels it can be more glittery than substantial, more about anticipation than realization. There's no disputing jewelry's dazzling allure. The first season's appeal reaches even the most casual fans whose interes...
---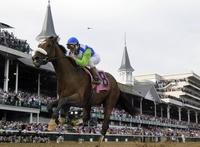 The "Road to the Kentucky Derby" begins this fall and is intended to build advance fan interest for the Derby on May 4. The scoring system will allow horses to begin earning points as 2-year-olds in designated races this fall. Churchill management believes the new structure organizes the preps into the equivalent of a regular season and playoffs, to which fans can relate. &quo...
---

In the stables at a prominent quarter horse track in New Mexico, workers quietly nicknamed Jose Trevino Morales's stables as the "Zetas' stables" and say they often saw people show up with bags of cash to buy the horses. On Tuesday, authorities raided those stables and a horse ranch in Oklahoma accusing Trevino and others of running a sophisticated money-laundering operati...
---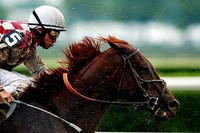 As the thoroughbred industry remains under siege, reeling from reports of horses used and abused and treated to the kind of milkshakes you can't order in a Baskin Robbins, the Belmont Stakes does not offer much in the way of a feel-good antidote. I'll Have Another might become the 12th Triple Crown winner, and the first since Affirmed in 1978, but the colt is trained by Doug O'N...
---
Triple Crown chance I'll Have Another and other Belmont Stakes entrants will be monitored closely to prevent tampering in the run-up to the June 9 race. All horses will undergo blood tests when they arrive at Belmont Park in Elmont, New York, and will be stalled in a secure area from June 6. New York racing board investigators will monitor all treatments. "The Racing and Wag...
---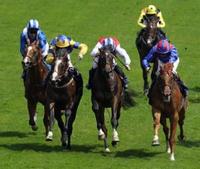 When you buy a racehorse, you pays your money and you takes your chances. Top yearlings at Keeneland's 2011 Thoroughbred auction, for instance, averaged nearly $350,000 and hadn't yet raced a step. Odds are that some of them never will. Now, thanks to a Binghamton University biologist, it's possible to boost the odds of getting a winner with a simple genetic test. ThoroughGen, f...
---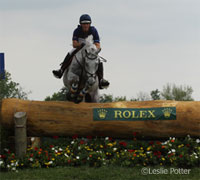 A traffic accident turned tragic on Friday, May 25 when a trailer carrying six of Nathalie and Michael Pollard's competition horses flipped over just five miles away from their home stable. A groom was hauling the trailer at the time, and the accident was reportedly caused by another driver cutting off the rig. According to news from the Pollard's website, the police stated there was no...
---