Read the latest horse and equestrian news from around the world. Including barrel racing, showjumping news, eventing, show results and horse welfare updates! Select from the category list, the equine news you want to read about!
---
Find the perfect name for your horse with these popular horse names! Spring has arrived and you may be welcoming a new addition to your horse family, be it your mare's new foal or maybe a young filly you have just bought on HorseClicks that you fancy giving a new name. You might think this is a piece of cake. But it isn't. That's why here at HorseC...
---
Whether you are a fan of selfies or not, you can't deny that this is definitely one of the best selfies ever taken. A man was just taking a short video of him and his horse, when he decides to give the horse a kiss. What he probably wasn't expecting was the horse to kiss him back! When he does it a second time, the horse replies in the same way again! Is your hors...
---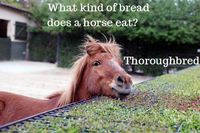 Horse humor is the best kind of humor. We've all heard the old "A horse walks into a bar" joke a million times by now. Even the horses are sick of it, which is why they've come up with some of their own. There are some hilarious horses around, we reckon a few of these horses could get on a comedy panel show, like Whose Mane Is It Anyway. Here are our favorites: ...
---
For dedicated equestrians, going to see your horse is the highlight of your day/week/month/year. You spend all day thinking about them. Sometimes we worry that our equine friends do not return these feelings, which is why it's the best feeling in the world to know that your horse is delighted to see you as well. Recognize any of these faces? Source: http://i.i...
---
We are extremely excited to announce the release of our brand new and innovative website package that will revolutionize the way you advertise online. Introducing: Infinity Infinity is the industry leading solution to managing your website, online ads and feeds, all from one place. By automating ad uploads with the ability to distribute and manage all your ads across the web wi...
---
In the early part of the 20th Century, a very unusual phenomenon started to develop in Atlantic City. On the Steel Pier, horses were being launched off a 40 or 60 foot platform, and into a pool of water usually just 12 feet deep. Atlantic City, which opened 1898, was once America's most popular amusement attraction. The act of diving horses was originally found in travelling circuses, u...
---
If you've ever wondered what horsey heaven would look like, you may be about to discover the answer. It's in Florida, and has just been put up for sale. At the the price of $22.9 million. The dreamy Florida based horse property comes with everything an equestrian could ever ask for. The 50 acre estate is loaded with scenic horse trails and a large showjumping arena, so you w...
---
Bath's are meant to be a relaxing experience, but that wasn't the case for Phantom, a 30-year-old Palomino Appaloosa. Phantom fell and became wedged inside a bathtub, which was being used as a feeding trough, while she danced around her stall in Orangeville Sacramento, and had to be rescued by firefighters. #MetroFire called for a horse stuck in a bathtub. With a...
---
Determine how 'horse crazy' you are by taking the quiz below and scoring 1 for every point you can relate to. 1-5 = Mild horse lover 6-10 = Growing enthusiast 11-15 = Getting a bit obsessive 16-20 = You should have been born a horse 1) To get the attention of family members and pets, you click your fingers and cluck your tongue 2) You can tell exactl...
---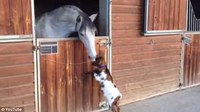 Love is in the air on a farm in the South of France, and it has been caught on video by farm owner Virginie Bourdes. What is unusual about this romance is that it is between her pet pygmy goat and her horse. The video shows the goat, called Bibi, approach the equine and start trying to rub the horses nose affectionately with his own. However the horse is too high for Bibi, so he has to get ...
---