Learn tips and advice on How to ride a horse, how to care for your horse plus read horse training tips and get general information and advice from horse experts and top riders!
---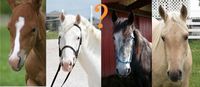 Buying a horse can be a lengthy, sometimes risky process. You may fall in love with a horse at first sight and then buy it without fully researching the horse's history and temperament. We have compiled 8 easy-to-follow steps that we hope will aid you in the horse hunt and make sure that your horse buying experience is an enjoyable one! Step 1: Research the breed you are i...
---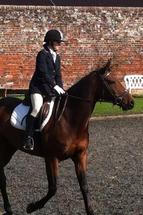 Ever wondered what the correct etiquette is when warming up your horse at a competition? HorseClicks customer Nicola Strong looks at how not to 'hack off' other riders in the warm up arena. Recently at a local dressage competition I found a corner of the warm up arena to work in and play about with some chages of the rein and a few 20m circles. We first went and had a stretch, wamr...
---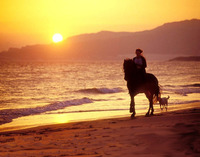 If you're thinking of heading west and booking a ranch stay in North America, riding holiday specialist Ranch Rider has drawn up a list of travel tips to make sure its the holiday of a lifetime. Do certain destinations suit different levels or rider better? Every destination and ranch offers something new so it's not really that simple, and riders tend to be grouped according to their...
---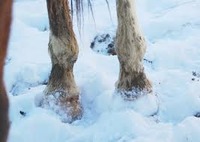 In the winter, it can be easy to assume that your horse has the right amount of traction, but a trip or a slip can mean serious consequences. The right amount of traction - not too much or too little - is crucial to a horse's performance, health and well-being. When a horse is traveling on slippery ground, he takes shorter steps, crouching to lower his center of gravity and keep his ...
---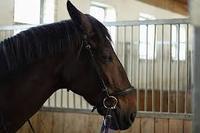 Did you know? Horses, Zebras and Donkeys (or Equids) are the only animals that sleep standing up. According to scientists at the Department of Natural Sciences at the Florida Museum of Natural History, they developed this ability as a way to remain alert for predators. After all, the horses that could simply wake up and run if it sensed a predator would be better served than the...
---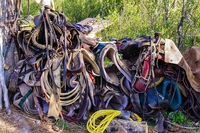 Do you find yourself stressing over the perfect saddle for your horse? Have you noticed that your existing saddle isn't perfect? Maybe it slides around or it's slightly too wide. Before you head to the store to purchase a brand new one, listen to this advice, brought to you from veterinarians. If your saddle is slightly too wide for your horse, a sheepskin pad mi...
---
Today, someone on Facebook posted a link shared on my page. The link, 10-reasons-your-teenage-daughter-should-own-a-horse is so emotional for me as a former teenage girl in love with horses and as a Mother who watched her daughter fall in love with horses, and is now watching her adult daughter leave her horses behind. Everyone is different, we all know. I am quite sure that my daughter's l...
---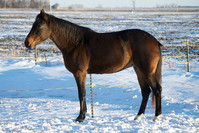 Winter is fast approaching, which means that now is the perfect time to prepare your horses for the tough months ahead. Ice storms, snow and brutal winds can make your horse care routine tougher to manage. Follow these quick tips now to make life easier for your barn this winter. 1. Meet with your veterinarian now to review your routine. Dental care, vaccinations, parasite control… ...
---
How do I register with Horseclicks? There are two different ways to register with us. If you'd like to place a regular ad, you can do so for free on our homepage, here. Follow the prompts to upload your advertisement. If you're interested in a premium account, please call 786-433-7120 and speak with one of our account representatives who can help you to begin selling on H...
---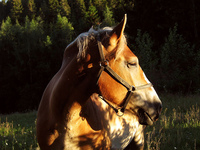 Do you expect your body to stay the same throughout your life? Of course not! Your body changes as you age, and so too do the clothes that fit it. The same thing can be said for your senior horse. The saddle that fit perfectly on his young, strong body might not be the right saddle for him now that he's past his prime. Spending a short amount of time re-fitting your horse's sa...
---