The most unique horse markings. You won't believe the last photo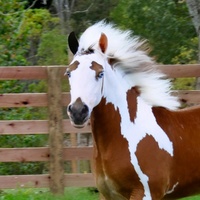 We all love our horses. We would do anything for our horses, and our horses are easy to spot. To an outsider, horses just look like normal horses but some you can identify by their unusual markings. Most markings on a horse are the white areas that standout on their dark coat.
We have found some of the most beautiful marking on horses around the planet. Take a look at these beauties....
The black and white Mare
The Reverse Oreo
The orginal Oreo
The Chocolate & Vanilla Shake
The Skelton Horse
The Mohawk Mare
...a Zebra??
Love all these amazing markings? Check out some more here
News