Our Top 6 Horse Bloggers You Should Be Following
Do you love reading about horses, but not sure which horse bloggers are out there to best fulfill your need for regular and entertaining content? To help you out, we've put together some of our favorite and most popular equine blogs on the internet. There are some really great bloggers out there, and we hope this list will help you find a new one to follow! (If you're not sure what a blog is, it's basically just an online diary)
1) Stacy Westfall Horseblog
Stacy Westfall is a lifelong horse rider with a passion for natural horsemanship and bridleless riding. When she isn't competing, training young horses or touring the country offering clinics and making appearances on the Ellen DeGeneres Show, she keeps a blog where she tries to explain why horses do the things that they do, along with her husband Jesse Westfall. Stacy posts regular content as part of her Westfall Horsemanship program which can vary from Q&A, tips, video diaries, personal stories and also informative insights.
She is also on Facebook and Twitter.

2) She Moved To Texas
As you can probably guess from the name of the blog, this is a blog about a woman called Lauren who moved to Texas, and now writes about her adventures with her beloved OTTB Simon. Her blog has gained her some attention in the equine industry, and she has been featured on the site The Chronicle of the Horse for their Amateurs Like Us series. Her horse blog is a great source of equine photography, lessons, interesting articles and pretty much anything you can think of.
She is also on Facebook, YouTube, Flickr and Instagram.
3) Saddle Seeks Horse
With over 480 email followers on her website, horse blogger and history teacher Susan Friedland Smith is definitely one to watch. She writes about horses that she's owned and known, life with dogs and draws the comparison of how the quest for the right horse is akin to the quest for the right man. Read her blog for advice, photography and interesting stories!
Also check out her Twitter and her recently created Facebook page.
4) A Filly's Best Friend
A Filly's Best Friend is an interesting equine blog about a woman 'working in the city, balancing her career, passion for horses, dogs, and the life they deserve'. It is a fun blog detailing how she is following her dreams while maintaining a good sense of humor. This is a great blog to follow if you feel that you can relate to that lifestyle. It is packed full of pictures, advice, humor and her personal experiences.
You can also find her on Facebook, Twitter, Instagram, YouTube and Google+.

5) Horses and Heels
Started in 2010 by horse blogger Raquel Lynn, Horses and Heels has grown into a popular online scrapbook of all her favorite aspects of the cowgirl lifestyle. We love the layout of her blog, and it certainly has a lot of content for the fashion-minded equestrian. Check it out for everything from home décor, fashion, horse tack, recipes and LOTS of cowboy boots.
You can also follow their Facebook, Twitter, Google+ and Instagram.
6) A Daily Bite of Biscuit
One of our favorite rescue horse blogs is A Daily Bite of Biscuit, which is a great blog about one person's efforts to transform her rescue horse Biscuit into a Therapeutic Horseback Riding superstar. A very interesting blog if you are interested in rescue horses or just want to follow Biscuit on his journey.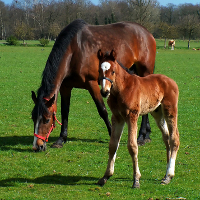 Special Mention: EquiMed
Last but not least, EquiMed is a specialist horse health blog providing frequent articles about horse health, diseases and conditions as well as providing information on available medications and an online Equine Health Services Finder which helps you find your local veterinarian or farrier. Definitely worth following if you have an interest in horse health!
They are also active on Facebook, Twitter and Google+.
Thanks for reading this list of our favorite horse bloggers of 2014. If you weren't already following them, we hope some of these will grab your interest. Remember to follow the HorseClicks news section too for great content, competitions and news!
Take a look at our updated Top 50 Horse Blogs article for the ultimate list!
News