11 Incredible Halloween Dressage Photos That You HAVE to See
News
•
Monday 13 October 2014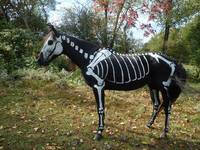 We're getting very excited about Halloween here at HorseClicks. Dressage dress up can be great fun for everyone throughout the year at Christmas, Easter and many more, but to us none are as interesting (or scary) as Halloween! We've done a full round up of our favourite Halloween dressage costumes on the web and put them together in this one terrifying list (the ones we weren't too afraid to look at). There is eveything from zombies to Batman, people can be so creative when it comes to their horses!
"Hey, Has anyone seen my head?"
The Trotting Dead "there seems to be a dog jumping out of your tummy!"
Say hello to... Mare'y Potter!

"You Shall NOT Pass!"
The Gelding Reaper
Still looking for my head...I guess this pumpkin will have to do!
CUTE ALERT! These two are adorable
BatMan and BatHorse
"I can flap all I like, but i'm NOT going to fly"
The Skelator! - "I'm Just big boned"
Not Halloween themed, but still impressive! This is awesome.
Have you got any spooky or crazy dressage photos? Upload them onto our Facebook Page!
News