Reward Up For Grabs After North Carolina Horse Was Shot And Killed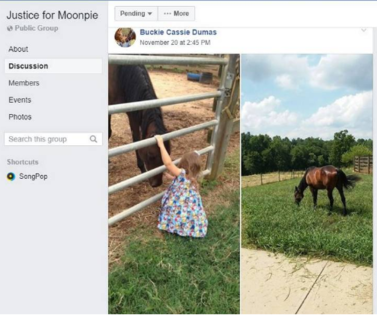 Owners of a North Carolina horse that was shot and killed whilst in her paddock are asking for help to find who did it.
They are offering a reward of $2,000 to someone who can help lead them to the suspect.

It was reported that the four-year-old horse named 'Moonpie' was shot multiple times on a farm last weekend.

Moonpie's owners set up social media pages to help them find more information on who killed their horse. The page was called 'Justice for Moonpie'.
Her owner Cassie Dumas said that she heard 18 gunshots go off the same night that Moonpie was killed.
"Truly, I can't imagine what was going through somebody's mind. This was 11:15 at night."
Supporters who are also disturbed by the occurrence have raised money to offer as an award to anyone who leads them to an arrest related to the horse's death.

All together they have managed to raise around $2,000, in hope that someone will come forward with some useful information.

The reward began at $500 but has since been upped to $2000 as donations kept coming.

Cassie was overwhelmed by the support of everyone donating, she said: "We want to find out who did this, but we also want people that just want to help to be able to donate to a worthy cause," Dumas added in Wednesday's post. "So we are looking into local Horse Rescues, to see about letting people donate on her behalf."

One supporter on Facebook said: "I'm so sorry that sweet horse crossed paths with pure evil, It's just sick that spineless cowards do that to innocent animals" and another said "I really hope you find the piece of crap that did this to this defenceless fur baby, so sad. Praying for ya'll."
Cassie urged anyone with information to contact her via Justice for Moonpie or call the Gaston County Police Department at 704-866-3320.