Little Horse Thanks His Rescuer In The Most Adorable Way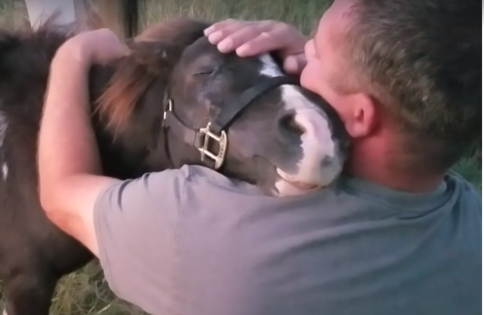 Kirk Hance is someone who takes great pride in saving sweet and innocent animals from neglect and slaughter.
Kirk recently relocated to a small farm with his wife Natasha so that their rescue animals had more space and to make it possible to expand their variety of animals.
Kirk had always planned to take in horses later down the line but when he started looking he was appalled by what he found online.
Kirk was truly disheartened when he found horse auction sites, which is a medium used to purchase unwanted horses, that would be sent to a slaughterhouse in Mexico or Canada if they weren't sold.
"I honestly didn't know that such places existed. I showed my wife the site and it really got to us. My wife spotted both a little paint mare and this little pony; both were being shipped at the end of the day if nobody could step up. We just jumped immediately and purchased them."
The two horses had been neglected in their previous homes, especially the pony who was extremely nervous around his new owners, to begin with.
"He was sick and just kind of stared at the ground. I'm convinced he was severely depressed."
Kirk gave the little pony all the space and time he needed in order to get used to his new home and settle in. A little over 48 hours and he started to come round.
Kirk was determined to let the pony know that he was here to help and wouldn't give up on him, but he wasn't used to love and care.
"I knew I needed to get down on his level and just show him I cared for him. He came up to me, and what started as me just petting him softly and reassuring him it was OK, turned into a full embrace. I just sat there for a few minutes holding him. He seemed to relax and almost fell asleep as if he knew he was safe. He melted my heart."

Watch the heartwarming video here:

https://www.facebook.com/nhance5/videos/vb.1351158706/10214650570961882/?type=2&video_source=user_video_tab