Riding for a Cause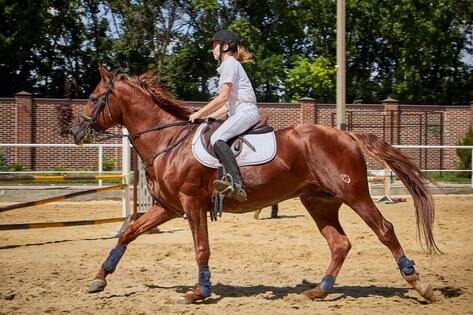 With this new virus, these silly barn goers are wearing muzzle covers and non-grooming gloves. I have noticed my hooman and I have not gone to any new places to gallop around on cross-country. She is always talking about dressage exercises and things to help straightness into grids. I just don't understand why we practice if we don't go anywhere. Heck, I don't even get to show off my fancy outfits to my friends! Actually, I think that's my favorite part. Mom is always so proud to come down the centerline or finish the last oxer in the course in our different colors. Here is some background on me and my little hooman.
My name is Hope (or Hope's Rebellion for show) and I ride into battle with my 14-year-old girl Laura. She came and saw me just over a year at my old house and we fell in love. I even have a sister named Pepper (Peppers Lucky Chance APHA) Laura brought me back to jumping after my old rider had an accident on another horse on cross country. She strictly switched to dressage, which I didn't mind. But… Being an 18-year-old Swedish Warmblood Lippizan cross, I like to jump into giant water troughs and over pizza slice jumps. I love my hooman and even the silly outfits we wear out on cross country. She's not like any other hooman though. She suffers from Rheumatoid and Juvenile arthritis as well as Tourettes. She must get shots of Cosequin and to help with her ticks I must help her focus and then she relaxes.
Some of the colors we wear boldly are dark purple, royal blue, bright pink, teal and, camo. The reasons? Simple. We are proud. Purple and blue are the colors of the awareness ribbon RA. Pink? Breast Cancer, one of our best family friends is battling triple-negative breast cancer. Teal is for Tourettes and camo is probably the most important one to her. We support all our troops and even the spooky noises that come out of the sticks in their hands. She wants to be an Airforce pilot when she retires from her schooling barn she leaves to every day. I'm always proud to ride in these colors even when others make fun of them. Other horse owners question why she has so many colors. She replies, "I am riding for a cause. All of these colors mean something more to us than they do to other people but the people who know, all support us." Would I event in one singular color? Heck no. We ride for a cause and I would never be prouder wearing any other color. I know that would be the same for my Pepper. I think that it's great that some people have one set color and would never object if I had to either. I'm just saying, don't question people's colors, often they may have a deeper meaning.
I think mom is coming out with some cookies so I must sign off. May all my fellow horses and ponies get green grass and not have to wear silly muzzle covers. Stay healthy and be nice to your hoomans.
-Hope