Introducing Alison Thomas 'Finding My Why'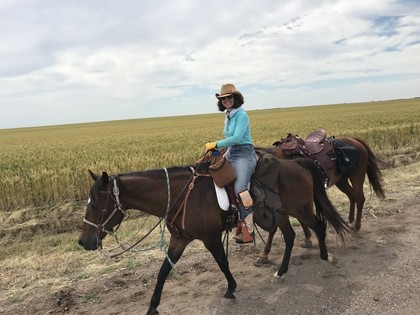 Readers. Hello, My name is Ali. I am proud to be 40, I've earned my wrinkles, and generally I think I am a well balanced person. I have 2 fur babies, Cisco, a 22 year old Grade Quarter horse, whom I have had since birth. He is a forward moving, pain the tush, he is insecure, and dishonest, but will go anywhere and over anything, we have been through it all together, 6 moves, and 5 broken bones. Then there is Catalena 12 year old Quarter horse, out of Cats Moonshine, I bought her after I learned to ride cutting horse and thought... I'm going to get me a futurity horse. Did you know it cost at least $10K just to go to the NCHA cutting futurity, don't forget you need about $10K more to pay for training. Needless to say she did not go, and now I have a very fancy high bred trail horse.
I'm having a mid life crisis, anyone want to join me? I have a bag full of first world problems, which is another way to say I have a lot to be thankful for. I 've had pretty good success at work, and I have enough net worth that I can take the opportunity to re-discover my passion. However, after reading Simon Sinek's book "
What's Your Why?" and numerous other "restart your passions" self help books, I'm still stuck. I hope, like many of you, horses are our passion. As a teenager I could think of no better day than to be stuck at the barn all day. I didn't care what I was doing as long as it involved a 4 legged animal. I'd ride anyone's horse, so long as I could ride. Before college, my father asked me what I wanted do be, and I said "a horse trainer", but as good parents do, he gave me the hard truth about the low likelihood of a highly successful career. So I abandoned that path and sought out something that would be a "good/safe" career choice. After 2 year of college, I ran away from home. But not really. I joined the service. The service told me what do to, when to do it. I didn't have to make any decisions on my own, until now, when that career is coming to an end, and this time, I'm the parent. So there you have it, my dilemma. What passion can be a career, and really how much will it pay, can you survive on that pay? What's your passion? Why do you love horses, what do you love about them. Do you like to heal them, train them, race them, breed them?