How To Tell If Your Horse Is In Good Health By Poppy Gallagher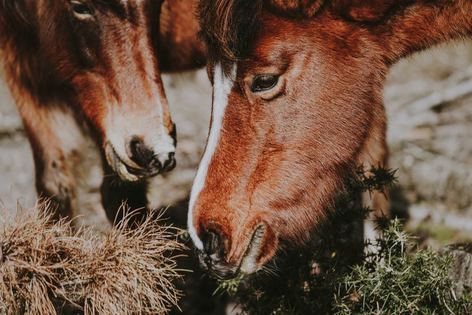 Do you know how to tell if your horse is in good health or not? It's vital that you regularly check them over, so you can spot any signs that they may be under the weather. To help we have put together a list of signs for you to look out for, so you can treat your horse accordingly and keep them fit and healthy.
Check Their Feet
As the saying goes, 'no foot, no horse', which is why it's so important that you have your farrier visit every 6-8 weeks. Both you and your farrier need to know what is normal for your horse to allow you to recognise any abnormalities. From cracked and crumbling hooves to an abscess, there are multiple problems that can occur in your horses' feet that may be an indication that your horse is not in good health.
Their feet can also highlight more serious problems, including laminitis in horses. If your horse has an increased digital pulse, is reluctant to move forward and is leaning back on its hind feet to release pressure from its front feet, then your horse is showcasing symptoms of acute laminitis. Immediately call the vet, who will be able to advise and help you treat the disease.
Use this checklist when looking at your horse's feet:
Check the horse is sound

Check the integrity of the white line and remove any small stones

Check for any heat

Look for any cracks in the hoof wall

Check for thrush – usually detectable as a bad smell

Look out for any infections in the foot

If shod check the condition of the shoes – are they worn or loose?

Check the horse's digital pulse – is it bounding?

Dental Health And Bright Eyes
Regular dental care by a qualified equine dental technician or vet is essential to your horse's overall health, comfort and performance. Loose, worn and missing teeth can all make chewing difficult and ultimately slow the horse down when eating fibrous material, which can lead to weight loss and colic. A sure sign your horse has dental issues is quidding where partially chewed food is dropped from the mouth.
Ideally, when you look at your horses' gums, you want them to be salmon pink and moist, opposed to either a pale, yellow, streaky or deep red colour, which would be a sign that you need to call the vet. Whilst you are checking for the colour of your horses' gums, gently press their gums. Preferably, their gums will turn white and back to salmon pink within two seconds. In addition to this, you want your horse to have bright, clear eyes with no sign of discharge. A horse with pricked ears that looks attentive, and doesn't look down in the dumps, is also a sign that your horse is in good health.
Coat Shine, Body Condition Score & Hydration
A shiny coat reflects the quality of the diet you are feeding and the nutrients your horse is receiving. If your horse doesn't have a glossy coat, you may want to alter what you are feeding them. If they don't have a fortified feed or are fed less than the recommended amount top-up with a vitamin and mineral supplement to ensure a balanced diet. When you are looking at their coat, you can also check their hydration by pinching skin from their neck. If it bounces back quickly then you know that your horse is hydrated. Always ensure that your horse has access to fresh, clean water and is given access to salts and/or electrolytes depending on workload.
As part of your checklist for checking the health of your horse, you need to body condition score them. By using the six-point scale, from 0-5, with 0 being emaciated and 5 representing obese, you can determine whether your horse is in good health or not. To be the ideal 3, your horse's hip bones should be visible, the ribs should be easily felt but not visible, the muscles on the neck will be less defined and the rump is just starting to appear rounded. From body scoring your horse, you can alter their diet, as well as the amount of exercise they are receiving. Remember to feed your horse according to weight and workload, sticking to the rules of feeding.
Temperature, Pulse And Respiration
You need to know your horses' regular temperature, so you are able to notice any fluctuations; the normal temperature of the horse is 37.5°-38.5°. In order to take the temperature, insert your digital thermometer into your horses' rectum. You can speak to your vet for advice on how to seamlessly do this.
Typically, your horses' heart rate will range from 28-44 beats per minute. Your Horse's pulse can be checked by putting your fingers under their jawbone. To measure the respiratory of your horse, which should be between 8-16 breaths per minute, watch their flanks move when he breathes. A change in either their temperature, pulse or respiratory rate, is a huge sign that you must call the vet immediately.
As you can see, there are a number of ways to tell if your horse is in good health or not. By knowing your horse and what is normal for your horse, as well as checking them over regularly, you have the best chance of keeping your horse healthy. This means you can act quickly should your horse demonstrate any signs of being unhealthy.