FoalPoint: How to Breed Horses In the 21st Century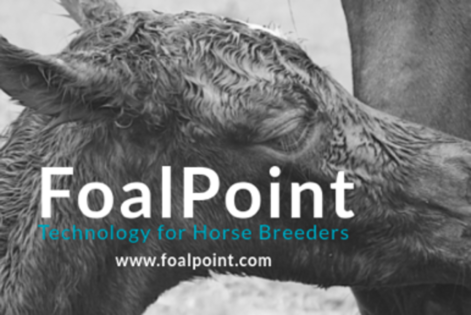 If you're a horse breeder, you know how busy days can get, especially in the height of the breeding season. Perhaps you're tracking mares on calendars, in notebooks or in your head, all while balancing stallions, yearlings, and other working stock. Have you've been promising yourself you'll get organized and find ways to be more efficient in addition to crossing your fingers for a successful year?
Luckily for you, the future of horse breeding has arrived with FoalPoint. It's time to make those "wouldn't it be nice" thoughts, a reality.
Do I need to modernize my breeding operation?
There seems to be a fine line between breeders who consider themselves hobbyists as opposed to business owners. The truth is, whether you have two mares or two hundred, if you're investing significant amounts to breed your horses with the goal of selling them, you are a business.

Unlike other areas of agriculture, many horse breeders have to wait a year or longer before they are selling offspring and turning a profit. Does this mean new technology isn't a worthwhile investment for horse breeders? Just the opposite!
The long sale cycle means horse breeders have even more pressure to stay within their means and maximize efficiency to turn the highest profit when it comes time to sell. Upfront costs such as stud fees, ongoing expenses like veterinary work, risk of accidents, and the ever-changing market can have breeders holding their breath until a horse loads on to the trailer destined for their new home.
I've been successful so far, why would I change?
How do you measure success? By the number of mares you get in foal? By the number of live foals you have? When you make a good sale on offspring? What about your ROI? How much money are you spending on each individual broodmare? How much time do you invest doing chores, paperwork and foal watch? This information is important because if your main source of revenue is breeding, everything you put into that mare, year-round, is to ensure she will give you a higher return with a foal. You pay for your land, feed, farrier and veterinary costs because you're counting on a foal each year. So how could you risk that not happening? FoalPoint helps you be thorough, and when breeding season comes around you can't afford to be anything but. Your potential foal is already an investment before he/she is even an embryo, so don't cut corners.
Makes sense, but where do I begin?
If you want your breeding operation to thrive in the 21st century, you're going to have to place strategic goals to improve and grow your business. This means adopting breeding technology that will save you time and money by allowing you to track the right kind information in a way that is actually useful and organized. Sometimes we fail to see where improvements need to be made if we reach the same end result. If all your mares got in foal but you went through multiple cycles, spent thousands in veterinary expenses and didn't get any sleep for 5 months, is everything really working as well as you think it is?
Embracing technology can be a big (and sometimes intimidating!) step forward, but it's a necessary one and the FoalPoint team helps you every step of the way. Using both science and technology, FoalPoint helps you manage the horses on your breeding farm all while learning more about the reproductive cycles of each one of your mares. Being pro-active about how the daily ins and outs of your business can be improved, is the best way to ensure success and longevity as a breeder.
To find out more about FoalPoint and learn how breeders just like you are modernizing their breeding operations to make their lives easier, visit www.foalpoint.com and get in touch with our team!