Buying An Off Track Thoroughbred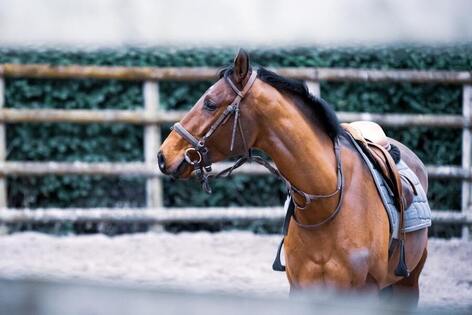 Four years ago, I bought an 8-year-old OTTB, who had been off the track for a couple of years. I had an epiphany. I had 2 horses and felt I needed something, well new? So, I was looking through the Horseclicks ads and found my something. The owners were a mom, Karen and her 13-year-old daughter Macy, who was working with a trainer to train him as a Hunter/Jumper. For whatever reason, they decided to sell him and I was lucky enough to find him. I live in Indiana, they lived in Ohio, so it was a nice road trip to go and give him a go. My boyfriend and I decided to take the car so I wouldn't do anything impulsive. Macy and her father were there to show her OTTB. He was a kind gentleman with pretty good ground manners. We saddle him up and took him in the indoor and rode him. I liked him right away. He had some kinks which needed to be worked through but I liked his gentle soul and decided to go home and think about it. I took pictures of everything, legs, hooves, conformation, everything, so I could show my trainer. She gave me some great advice and I decided to wait a week before I made my offer.
Offer accepted, my new guy would soon be moving to Indiana. A friend of mine and I went to go pick him up on a hot summer day. When we arrived at the boarding barn Karen was there to meet us. Macy was at home crying over the departure of her friend. Well, he decided he didn't want to leave and wouldn't load. Go figure. Like this has never happened to anyone else. So, the three of us were throwing around ideas and working on getting him to at least approach the trailer. After an uncomfortable amount of time he finally loaded and off we go.
When we got him back to his new home, we pulled into the indoor arena and got him out of the trailer thinking he was going to just tear the place apart. No way. He calmly walked around the arena and approached each of us to get acquainted. Yes, definitely a kind soul. At this point I decided there was no time like the present to saddle him up and just walk him around. After bringing him back in the arena and mounting up he really didn't want to go forward. I struggled to get him to walk forward and succeeded, but this was one of his kinks I needed to work out. He was so calm and pleasant, he finally started to go forward. I walked him around the arena just to see if he was any different from the first time I road him. Nope, same guy. It actually crossed my mind if he had been sedated or medicated. I just couldn't believe how calm he was. Not like the other OTTB's I've seen come through the barn. He was the opposite.
I scheduled my first lesson with my trainer and our saga begins. Stay tuned. It gets better.