Washing Horse Blankets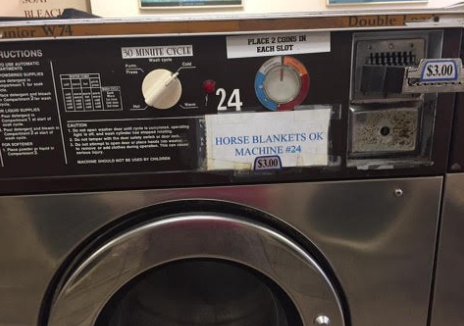 For owners of multiple horses, or even one, blanket washing and repair may prove costly, not to mention a dirty business. Some people who do repairs will only accept clean blankets while others will wash and repair grimy ones. Some will pick up and deliver, others require drop off and pick up by the owner. Some offer group and barn discounts. Whatever the case may be, blanket upkeep is a part of a horse owner's annual budget. Blankets are expensive, and proper care ensures a longer life. Clipped horses rely upon them as do horses with thin coats, especially in our northern climate.
When I first moved to north western New Jersey, I was amazed and delighted to find a laundromat that actually has a designated machine for horse blankets! Most laundromats in our area have signs posted everywhere that no horse blankets are allowed at all. But in one small town in New Jersey, for three dollars or twelve quarters, I can wash a filthy blanket in a large machine and take it home clean to dry on the fence.
As I reflect on this, I cannot help but be grateful for both the convenience and very low cost of washing blankets. More importantly, I appreciate the owner's kindness and understanding of our local horse community where there are lots of farms and riders from many disciplines.
I have been to many laundromats here and in other states where horse farms abound, but I have never seen a sign like the one in our local laundromat. While I have enjoyed the opportunity to go there regularly for many years, it seems particularly important right now at a time when a global pandemic and social injustice plague our world. Here is a local business that thinks about how to serve the community and follows through with extra effort and consistent, supportive action. What a wonderful, generous example for us all.