Separation Anxiety In Horses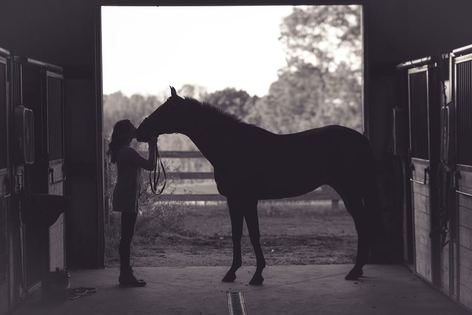 Let's talk about separation anxiety. Usually, when you think of this you think of your dog. When you leave the house the pooch screams, cries, pants, and maybe even destroys some furniture. Or maybe when you hear separation anxiety, you think of your small child on their first day of school and emotions run high, or when you take your horse on the trail and you are leaving another horse behind and you can hear them neigh and carry on as you ride away.

We have all been there I'm sure, but the separation anxiety I'm talking about today is for myself. The owners perspective of this unsettling feeling. I'm sure this may sound silly to most of you. But what I'm feeling today, and have been for the past week, is real.

Tomorrow my boyfriend and I leave for our vacation for 6 days! A vacation we desperately need - it's been 2 years since our last one and we are going with his parents like we usually do. In the past, I've always felt guilty and somewhat anxious about leaving my dogs with family or at the kennel. I'm always wondering if they are ok, but the anxiousness quickly goes away. This year is different, this year I have what I've been wanting for many years, an animal so beautiful and majestic. An animal that stole my heart when I was 6 years old. This year I have a Horse!

I've had Chief for almost a year, this is after a 20 year hiatus of not having a horse. I constantly worry about him. Am I feeding him enough, or am I feeding him too much? Does he get enough turnout time? Is he happy or sad? Does he like me? Does he hate me? Should I leave him in the rain or bring him in? The list goes on and on.

Today, Chief is going to stay with a friend for a WHOLE WEEK while I go on vacation. A week of me not seeing him. A week of me not knowing if he is ok (which I'm sure he is! ) a week of not knowing if he is eating? Is he drinking? Are the flies eating him up? Is he getting sunburned. Does he miss me? Is he glad to be away from me? The things that go through my head! You would think I am new to horses!

I don't remember worrying so much for my horse back when I was younger, the anxiety I feel is overwhelming. My heart races. I sweat. I cry. Is it bad that I want to cancel my trip? (just kidding Dian!) Dian is my boyfriend who is so understanding and patient and is an animal lover too. Dian loves Chief as much as I do, but I'm sure he really thinks I'm nuts right about now. I'm so grateful to have him in my life as he calms me down and gives me a hug while I cry my eyes out at the thought of Chief leaving today.

I was at the barn early this morning getting him ready to go - currying him, brushing him, cleaning his hooves. Talking to him and telling him how much I will miss him. Braiding his mane so he stays cool in this god awful Florida heat! Putting sunblock on the areas that tend to burn. Chief is mostly white, so as those of you know that own white horses, keeping them clean and not sunburned is a chore in and of itself.

I think Chief knows something is up as he watches me with his big beautiful eyes. He's usually out in the pasture right now enjoying some good grass, but today he's in his stall under the fans waiting for his ride. This is the first time Chief and I will be apart. He probably doesn't care, he will be with other horses out in the pastures. He will be very well taken care of. Hell, he'll probably not want to come home!

Am I the only one who feels this way? Will it get easier in time as I leave him to go on other vacations or whatever may come up? Will I stop crying today. Will I cry on vacation?!!
So for those of you who have suffered from separation anxiety, I feel you! I never really understood separation anxiety until now. With my very own horse. My heart. My soul. My Chief.