Tractor vs. Skid Steer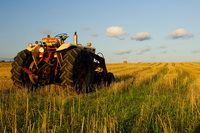 tractors
One of the biggest investments you will have to make when you buy a new farm is your primary piece of equipment. While most people automatically assume that they will need a tractor, there are other options worth considering.

For most of the heavy jobs around the farm, there are two primary pieces of equipment that can do the job. The first is the tractor, tried and true member of the farming community. The second is the skid steer, more popular in the construction world, but still a heavy-duty contender.

A lot depends on exactly what you plan to do around your farm. While the skid steer can do much of what a tractor can do, if you are looking to harvest your own hay, a tractor is better equipped for the purpose. However, if like many horse owners, you are mostly looking for something to manipulate the round bales, fix the fences, plow the snow, grade the driveways, and do other odd jobs around the farm, the skid steer has much to offer.

Lifting Power

Both tractors and skid steers are heavy-duty lifters. Assuming that you purchase the right size of machine for the job, both can easily manage large round bales, and stack them as required. Skids steers have one advantage when working with round bales. Because of the way their lifting arms work, a skid steer can lift a hay bale higher and more directly than a tractor. A skid steer can easily pile round bales up to four bales high, maneuvering in a small space. You would need a fairly large tractor to be able to manage that kind of lift.

Maneuverability

Skid steers are designed to turn in very tight spaces. In fact, they can practically turn on a dime. Tractors, on the other hand, need a lot more room to work. Unfortunately, skid steers also tend to tear up the ground when you spin them around, so you often get stuck tidying up after them.

Pulling Power

Tractors easily outstrip skid steers in this category. While a skid steer can pull equipment, it is primarily designed to work from the front end, and not the back. In fact, the driver of a skid steer cannot see behind himself at all. While you can rig up a drag harrow to a skid steer, most of its equipment must be attached to the arms, in front of the machine. While you could drag something backwards if needed, the lack of visibility behind makes it dangerous.

Fence Repair

While both machines have post hole augers available, the skid steer's system allows far greater power to the auger than the tractor. Skid steers also have the maneuverability to help with a variety of other fencing tasks, making it a very useful tool. Because skid steers are compact, they can also fit through smaller gates than the average tractor.

Storage and Maintenance

Both vehicles should be stored indoors. Some tractors have enclosed drivers' compartments, but generally they should not be left out in the elements. Skid steers are more compact, making them a bit easier to store. Their greater maneuverability also makes it possible to park them into smaller spaces.

Both types of equipment have similar maintenance schedules. Most maintenance can be performed by the farmers, which makes them easy to manage.

Resale Value

While both types of equipment will decline in value over time, skid steers are work horses that generally maintain value better than the average tractor. In fact, well maintained, used skid steers often sell for close to what they cost brand new.

Articles