Tips on Advertising your Unwanted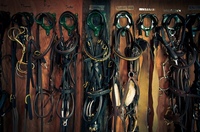 Now it's January and the sales have started, what better time to sell all your unwanted tack and riding gear to start the New Year. Here is a guide to show you the best ways to advertise your unwanted items to ensure you get the best price for them.
Remember to be truthful when placing the ad. Keep the details correct because this will help to prevent any future problems with customers and will give you a good reputation. For example when you are describing the condition of the item, such as Brand New, Used, or in Good Condition, ensure you describe it honestly to give consumers the best idea of what the product is like.
A good representative picture is very important. This is one of the biggest things that will attract consumers to your product. Try your best to include a clear accurate photo of the item you are selling. Ideally multiple photos from different angles would be best to give a good outlook on what you are selling.
A description of the item will again help to give the consumer information of the quality of the item and what it is like. Keep this simple and not too wordy. Use key words, such as, size, price, condition/quality, what it can be used for, material and any other qualities it has worth mentioning, e.g. easy clean.
Include an exact price. Along with this you can then specify if it is ONO or exact, however if a price is not included this may put people off. Evaluate the products quality and with the starting price in mind, gage a new price.
Create a simple and informative title for your advert. This will attract people to the ad. Make sure it isn't too long and contains information about the advert itself. Use only key words and the most important information because the rest can then be found in the actual ad.
Put it under the right section so it's easy to find. Websites, such as HorseClicks, have different areas on the website and specifically to HorseClicks, each ad can be put into multiple sections to narrow down the search so it is more specific. Doing this will help people find what they want more easily so it is an important step; if it was in the wrong section it will not be found by the right target as they will be looking for other items.
Remember you can alter your ad next time depending on views and replies.
Photo by Adam Gerritsma
Articles