Slip and Slide - Finding the Right Traction for Your Horse this Winter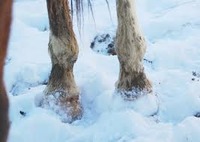 In the winter, it can be easy to assume that your horse has the right amount of traction, but a trip or a slip can mean serious consequences. The right amount of traction - not too much or too little - is crucial to a horse's performance, health and well-being.
When a horse is traveling on slippery ground, he takes shorter steps, crouching to lower his center of gravity and keep his balance. This puts added stress on his joints. On the other side of the coin, if he has too much grip, his foot bone will absorb more of the shock of impact that is normally absorbed by his foot slipping slightly as he walks.
The best way to ensure that your horse is not injured in the winter when the ground gets slick is to work with his individual needs and the climate in which you live to develop a winter shoeing plan that is perfect for your horse.
If you have to add a traction device to your horse shoes, you will probably be choosing between calks and studs. Calks are protrusions that function as part of the shoe. Studs are separate elements that are screwed into the shoe. Both options provide traction by sinking into mud, grass or other soft surfaces.

Depending on the traction you need, you can place studs or calks in different locations on the shoe.

If you aren't sure how much traction your horse needs, you can speak with a professional for a recommendation based on your location and your horse's daily activity. Finding the right balance is crucial to help him get through the winter safely and happily.
Articles