Guide to Horse Rugs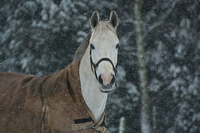 There are so many different types of horse rugs available that it is easy to become confused about which ones to buy. From Lightweight to heavyweight rugs, they all provide a different beneficial purpose. A horse's wardrobe can easily become as big as its owners if you are not careful; it is possible however to spend a sensible amount of money by buying the essentials first.
There are many cases when you will not need to use horse rugs at all. One school of thought suggests that the horse's coat is the best form of insulation available.
In some instances horse rugs are horse accessories which are used for the owner's convenience rather than the horse's benefit. By keeping your horse clean and dry enough you will be able to ride him through bad winter weather. There are instances however where horse rugs are essential to the horse's wellbeing. If a horse has sweet itch for example wearing protective clothing will prevent midges from biting him.
Other reasons you might need winter rugs are if your horse grows a thin winter coat. If your horse's winter coat is thin he will get too cold to withstand winter temperatures without winter rugs. An elderly horse will also really appreciate the protection a rug can give.
Another reason your horse might need a rug is if you clip him. If a horse has to be clipped to allow him to work then he will need a rug to compensate for the hair that has been clipped away.
If you do not have a huge budget to spend on horse accessories then buying two lightweight horse rugs is probably the best idea. You will need a spare in case one gets damaged and needs to be repaired or washed.
You will need to buy two lightweight horse rugs so you can use one while the other is in the wash. The lightweight horse rug you buy should be a breathable and washable turnout rug so you can use it inside and outside of the stable.
As the temperature is decreasing and hits below freezing, thermal rugs are usual. However, these rugs are expensive, so if you prefer you can layer thinner rugs to increase the density.
Articles