Edit in sitelab
Fix All Your Saddle Fit Problems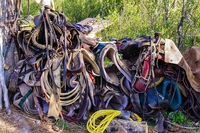 Do you find yourself stressing over the perfect saddle for your horse? Have you noticed that your existing saddle isn't perfect? Maybe it slides around or it's slightly too wide. Before you head to the store to purchase a brand new one, listen to this advice, brought to you from veterinarians.
If your saddle is slightly too wide for your horse, a sheepskin pad might be the best option. Rather than a foam, gel or other material, sheepskin is comfortable and thick enough to solve the problem.
Do you have a saddle with banana-shaped curved panels? This tends to be a problem for horses, unless they're very swaybacked.
What about a treeless saddle? Should you seek those out for the impossible-to-fit horse? Not necessarily. Treeless saddles generally concentrate pressure beneath the rider's seat bones rather than spreading it over a larger area.
Do you have a Western saddle? They're designed to be used with a thicker pad than an English saddle but they need to fit just as well. Consult a professional if you aren't sure if your saddle fits perfectly.
Just as important as fitting the saddle before you ride is observing it after. Do you have a sweaty saddle pad with an unusual dry spot on it? That probably means that it's fitting too tight in that area and the blood supply was cut off, making your horse unable to produce sweat right there.
Finally, when getting on or off your horse, use a mounting block or request assistance. Mounting your horse from the ground forces him to brace himself, potentially causing him to overdevelop shoulder muscles on one side as a result. This could lead to training issues, possible injury, and compound any existing saddle fit problems further.
Articles