Edit in sitelab
Adjust Your Horse's Saddle As He Ages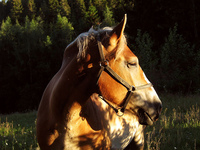 Do you expect your body to stay the same throughout your life? Of course not! Your body changes as you age, and so too do the clothes that fit it. The same thing can be said for your senior horse. The saddle that fit perfectly on his young, strong body might not be the right saddle for him now that he's past his prime. Spending a short amount of time re-fitting your horse's saddle can make your next ride a lot easier on both of you.
Ensuring that your horse's tack and saddle fit appropriately can help him to feel more comfortable during your ride. Make necessary modifications, whether it's replacing the old saddle pad, adjusting the saddle or even replacing the bridle. If you don't want to replace the saddle in the future, consider purchasing a saddle with adjustable gullets.
Usually, your senior horse can send you a not-so-subtle hint that he's uncomfortable while you're riding, but if he isn't getting the message through, that can mean serious discomfort to him. As horses age, their muscles begin to recede and they become softer. Their back and neck muscles become sore more easily, and they may require more padding or more support.
You should measure your senior horse if you suspect that his saddle isn't fitting properly anymore. Consult your veterinarian if you suspect your horse has serious back or neck pain.
A senior horse still has a lot of life left in him. Let him live it the comfortable way, with a saddle that fits him properly.
Articles