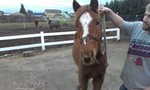 offline now
| | |
| --- | --- |
| views: | 195 |
| treats: | 0 |
| awards: | 0 |
| friends: | 0 |
| dates: | 0 |
| faves: | 0 |


about me:
my name:
sally
age:
5
i'm from:
Washington, Battle ground
country:

United States of America
gender:
Female
breed:
when I arrived:
When I got sally back in November she was very thin, hooves LONG and she had worms.
bio:
She's gained 200 lbs, been paste wormed then put on daily wormer, has had her hooves trimmed 3x, I've done a lot of work on ground manners. And she has blossomed into an amazing little girl! My 5yo can handle her. She leads, loads, ties, ponys.
special features:
She's going make a fantastic kids horse! She's small, safe, sound, loving, and cute as they get!
likes:
Berry good treats are her favorite! And she loves my kids giving her attention.
dislikes:
When you walk away. She follows you around like a dog.
my album: