Wilsonville equestrian Rich Fellers makes first cut for Olympic show jumping team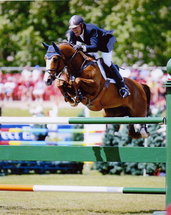 After a strong performance at the Olympic Trials for show jumping last weekend, Wilsonville's renowned equestrian Rich Fellers and his Irish Sporthorse, Flexible, made the first cut for the United States Olympic Team.
The pair were named to the long list for the U.S. show jumping team, which will be pared down to four horse and rider combinations and one alternate to compete in London this summer. The final team will be chosen following the completion of four observation events in the coming months.
Fellers and Flexible are ranked seventh on the U.S. Equestrian Federation's long list for the Olympic team.

A veteran of equestrian competition, Fellers, 52, has racked up achievements since he began riding at age 10. But competing in the Olympic Games would be a first.
"I think we have a good shot," Fellers said. "I think my horse is in the peak of his career. He's 16 years old -- which in a lot of cases would be past the prime -- but he's very healthy. He keeps improving every year."
Fellers and his horse have a lot riding on their performances this spring. They will travel to the Netherlands next month for the indoor World Cup jumping finals, then vie for the Olympic bid at two of USEF's observation events in Del Mar, Calif., in May and Alberta, Canada, in June. The Olympic selectors and coach will evaluate the performances at the U.S. events before making their final decision.
Last weekend in Wellington, Fla., Fellers and Flexible shared the lead heading into the final round of the Olympic Trials with veteran Margie Engle, of Wellington, and 17-year-old Reed Kessler, of Chicago. But the local pair accumulated one more fault than the other leaders when Fellers and Flexible went three-tenths of a second over the allotted time to complete the course, Fellers said.
Fellers and Flexible finished in a tie for third.
J.R. Swan, co-owner of the Wilsonville facility where the professional equestrian trains, said Fellers and his stallion share a close connection. "They're just so dialed in together," Swan said. "Fellers is a true horseman. He always puts the horse's needs first."
Fellers has competed with Flexible for eight seasons. He said the horse's small size compared to other show jumpers makes him a crowd favorite.
"He's more of a fighter with a lot of heart than he is just a powerful athlete," Fellers said. "You can tell he really tries."

Source: Oregon Live
News