Wild Horses: Yes or no?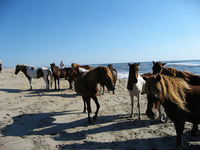 Wild horses finding their feet on private land could be fatal.
There is a heated 'difference in opinion' as some landowners feel the need to send these wild horses to the slaughterhouse whereas other wish them to roam freely.
A new demonstration takes place in Nevada to promote the free living of the animals. 2 dozen people fight against 1 landowner.
"If landowners don't want horses on their land they don't have to trap them and send them to slaughter, they can just fence them out!"
What do you think? Leave a comment below.
Source: ktvn.com, for more visit their website.
Photos by: 'Mrs. Gemstone'
News