Western States Horse Expo sees brighter outlook for auction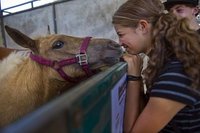 Horseclicks
In the center of an arena at Cal Expo on Saturday, Dip A Topaz, a 7-year-old mare, stood stock still while the auctioneer warbled into the loudspeaker. Two thousand potential buyers watched as the mare's rider shook a plastic bag and crawled around in the dirt between her legs to demonstrate her calmness.
Her buckskin coat gleamed in the midafternoon sun.
The Western States Horse Expo, an annual three-day gathering for riders, trainers, equipment vendors and veterinarians at Cal Expo, is one of the largest events of its kind in the country. The yearly horse sale is one of the few auctions in the western part of the country open to horses of all breeds and disciplines.
Buyers at Saturday's sale spent around $200,000 on several dozen horses. Dip A Topaz went for $6,300, the third-highest sale price in the auction.
Buying and caring for horses and traveling to horse shows can be expensive, and the horse business has been slow recently because of the poor economy. Yet some of those at the expo said they're optimistic that the worst has passed.
"It really crashed in 2008, and it's kind of found an equilibrium right now," said Dave Hammond, whose firm, Dave Hammond Auctions, ran the sale.
"The dust has settled. People pretty much know what they can do," he said. "The people who had to get out got out, the people who are staying are staying, and there are even some new people getting in."
The median sale price of a horse in the auction increased $700 from last year's sale, from $1,900 to $2,600. Hammond said the increase could simply reflect an improvement in the quality of the horses offered for sale.
"There are horses that have value no matter what," he said.
But horse owner Diane Hamilton, who traveled from Caliente, near Bakersfield, to attend the horse auction, said she saw fewer bargains this year.
After a horse sold for $7,500, Hamilton said she had bought a comparable horse at last year's sale for $1,100 with similar bloodlines. "She was a 3-year-old, and bigger and prettier. She had just as much training or more as this horse," she said.
"You couldn't tell the economy's so bad from this sale," Hamilton added.
Another change from last year's sale was the number of horses at auction. Consigners entered 119 horses last year, but only 89 this year.
Hammond said he thought that the supply of horses was decreasing as people were breeding fewer horses in response to weakened demand. "It was a big sell-off last year," he said.
Kenneth and Shannon Bowlin, who run Bowlin Performance Horses in Yreka, entered a gelding and mare in the sale. Before the auction began, they stood at the rails, watching the horses circling around the arena.
Shannon Bowlin said their business is picking up for the first time in three years. "I think everyone is so tired of having the belt tightened and giving up everything," she said. "They want to get back to living a little bit."
"The people that really got hurt, that lost their jobs, lost their homes, those are the people that got completely out of it," said Kenneth Bowlin.
Other horse owners responded to the downturn by selling some of their animals, or traveling to horse shows less frequently.
Kristen McCullough, of Gold River, lost her job in September 2010 along with nine hundred others when the subprime loan servicer HomEq closed its Sacramento facility and moved the operation overseas. She is now unemployed.
Before, she split a lease on a horse with another family. Now, she holds a third of a lease on a horse, sharing expenses and riding privileges.
McCullough remembered riding as a child. "It's kind of difficult for me, because when I wanted to go to a show, I went to a show. When I wanted new riding gear, I got new riding gear." Instead, she buys used tack and equipment for her daughter Lauren, 14.
"I just can't provide that for my daughter," she concluded.
McCullough's lease costs $188 a month, a price she and Lauren reduce by helping out several hours a week at the barn where they ride.
McCullough said the cost is worth it for her daughter. "It's helped her develop a sense of confidence, responsibility, and of course, provides a lot of enjoyment. … I'd rather have her be there than at the mall with her friends."
Source: The Sacramento Bee
News