Two More Queensland Horses, Dog Test Positive for Hendra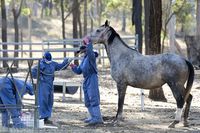 Horseclicks
Two horses on the Rockhampton, Queensland, Australia, property where a horse died of hendra virus last week returned positive test results today (June 5).
Biosecurity Queensland Chief Veterinary Officer Rick Symons, BVSc, MBA, PhD, said the two horses would be retested to confirm the results before a decision was made about future action. There are eight horses in total on the property.
"It is likely that the animals in Rockhampton contracted the disease from the originally infected horse which died last week," Symons said.
In addition, Biosecurity Queensland officers will be retesting a dog on an Ingham, Queensland, property on which a horse was confirmed hendra-positive last week after the dog returned a weak positive test result.
"Further testing on the dog is needed as three out of the four samples taken from the animal were negative for hendra virus," Symons said. "This potential case would only be the second natural infection in a dog to be recorded."
"Five horses and a number of other animals remain on the Ingham property," Symons said. "All other animals have returned negative results in the first round of sampling. Follow up testing for all of these animals will be conducted at the Australian Animal Health Laboratory in Geelong."
Symons said the animals were being isolated until the additional testing was finalized.
"Biosecurity Queensland officers will continue to monitor the animals daily and work with the owners during this difficult time," Symons relayed.
Source: The Horse.com
Browse horses for sale or place an ad on Horseclicks now.
News