Tooele horse shot to death in his pasture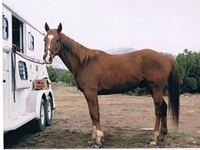 Horseclicks
Livestock owners near Tooele are on guard after a horse there was shot dead in his own pasture. The owner went out to feed his horses Monday morning and noticed one was missing. He eventually found the animal lifeless in a ditch south of Smelter Road.
Rachel Busico will never forget the call she got from her father early Monday morning.
"He says Rachel, somebody broke into the horses and Breezy is dead," she said.
Rachel rushed to the pasture. The horror she saw was hard to put into words.
"And I walked up and seen my horse lying in this ditch dead and it's… I don't even know what to say about it, you know," Busico said.
For this mother of two the hardest part isn't over. She now has to tell her children the horse they love is gone.
"I have to break their little hearts, and I shouldn't have to do that, period. It's not ok," Busico said.
She described Breezy as a well trained, calm and gentle horse. But more than that, Breezy was a loved member of her family.
"It's disgusting that someone would do something like that to him to that animal," Busico said.
The attackers didn't stop with Breezy. Rachel showed us whip marks on her other horse as well.
"It's just, its heart wrenching, it is, it's a bunch of bull crap," Busico said.
Now she hopes someone saw something late Sunday night or Monday morning, because a crime like this should not go unpunished.
"I want them to pay for what they did, I do, because it's not right," Rachel said.
If you may have seen this crime, call the Tooele county sheriff's office at (435) 843-3199. The person responsible will face animal cruelty charges.
Source: ABC 4
Browse horses for sale or place an ad on Horseclicks now.
News