This Cute Video Of A Foal And Dog Playing Will Make You Smile
News
•
Wednesday 15 October 2014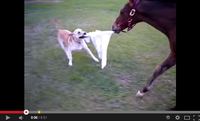 Dogs may be man's best friend, but that doesn't mean they can't have other friends. This is possibly one of the cutest videos we have ever seen, and is guaranteed to make you smile.
The video shows a rescued foal and a dog locked in an epic tug of war battle. The dog looks like it's having a great time while also being slightly nervous about his big horsey friend chasing after him.
The scene ends with the foal chasing the dog out of sight, but we bet the horse was just letting the dog win. The happy music in the background makes this video even more smile worthy.
Got any videos of your horse playing with other animals? Send them in!
News