They bought a horse and then a month later this happened…you won't believe your eyes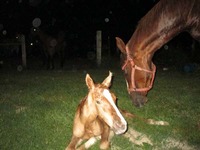 When you buy a horse it's a very special time. You will automatically have the type of breed you like and the kind of horse you want; the process isn't easy, it can take a while to find the right horse for you and one that you feel comfortable with. You might go and visit various yards to see different mares and stallions but when you find the perfect partner, you will just know; It will be a natural process and the minute you find the one, you will never want to let it out of your sight, slightly similar to child birth…
One family bought a horse and then thought she was acting slightly strange. All of a sudden in the middle of the night she went into labour, crazy I know; they didn't even know she was pregnant. The only reason they knew was because they noticed her giving birth to a foal, a healthy foal no doubt. She gave birth to little Filly and everything was a OK. They now have a beautiful addition to the family that they will cherish forever.
Check out their story below….
One month after a family bought a mare, she started acting funny. Then they realized she was going into labor.

No one knew that she was pregnant.

But, all of the sudden, she gave birth to a healthy foal.

The little filly was beautiful.

Mommy checking out her new baby.

Everything looks good…

It was love at first sight.

Mommy and foal finally together

The tiny baby was already starting to get curious.

Soon, she was trying to stand.

Finally made it, thanks to mom's help.

She wasn't too steady though, so she needed a pair of helping hands to keep her up at first.

Cozy and feeding in the barn.

Getting sleepy… so sleepy…

That's one happy mommy!

Source - http://imgur.com/a/yaWIg
News