These are the Funniest Jokes Ever Told by Horses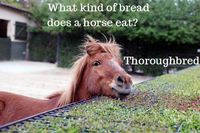 Horse humor is the best kind of humor. We've all heard the old "A horse walks into a bar" joke a million times by now. Even the horses are sick of it, which is why they've come up with some of their own. There are some hilarious horses around, we reckon a few of these horses could get on a comedy panel show, like Whose Mane Is It Anyway.
Here are our favorites:
Black Beauty... He's a dark horse
Where do horses go when they're sick?
"Where?"
The Horsepital!
What is the best type of story to tell a runaway horse?
A Tale of WHOA!
What did mama horse say to the baby horse?
"It's pasture bedtime"
What kind of horses go out after dusk?
Nightmares!
How do you get a horse drunk?
Drink him under the stable!
What kind of bread does a horse eat?
Thoroughbred!
We hope you got a good laugh out of some of these! Be sure to spread the joy and share this article with your friends, and check out horseclicks classifieds to find your very own equine comedian.
News