Texas girl opens equestrian debut with 4th place national ranking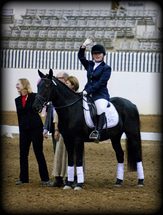 Liberty Hill High School sophomore Houston Jones opened her equestrian debut with a fourth place national ranking in 2011, all with her adopted mustang Midnight Spookers. She qualified for United States Dressage Federation (USDF) Region 9 Championships at her first recognized show. She attended two other recognized shows before competing at championships and ended the year 40th out of 250 qualified juniors nationally. An amazing accomplishment considering it was her first-ever year to compete nationally and all with a little mustang.
Houston's sudden catapult into the national ranks was the culmination of four years of concentration not only on horse riding but care and training as well. Though her parents have owned horses all her life, Houston's interest didn't really spark until she was 9 years old. And then she turned to her life-long companion, Spookers.
"A week after I was born, my parents heard about a BLM auction," said Houston. There were 70 mustangs available, all as alike as peas in a pod. "My mom picked out Spookers because he was the only horse that came up and sniffed her hand. Mom said he was the easiest horse to gentle. She could see he really wasn't afraid of her. From the start he would let her touch him and groom him while he ate.
"One of my mom's favorite stories to tell is when I was about 2, in one of the front pastures, my dad had removed a dead tree but had not filled in the hole yet. My mom was at the wash rack with one of dad's horses when she noticed Spookers going down on his knees and putting his head in the hole. She made a mental note to tell my dad to get the hole filled before one of the horses got hurt. As my mom watched, Spookers popped back up on his feet with me in his mouth. He had a hold of my diaper and backed up a few steps with me in his mouth. Mom says I was laughing and smacking him on the face, but before she could get to me, I had put myself back in the hole so Spookers could get me out again. By the time mom reached us, Spookers had me by the diaper again and was watching my mom watching us. Mom says I never quit laughing, even when Spookers put me back on the ground then wandered off to graze."
When Houston finally showed an interest in riding, her riding partner was obvious.
"It was not until I was almost 10 that I showed any interest in our horses," Houston said. "My mom was overjoyed and knew she needed to find a trainer. That's when we found Christine Bergeron."
Bergeron is owner and trainer at Cadence Ranch, located just off CR 204 in Liberty Hill.
"Christine knew I was scared of horses and only wanted to stay at a walk for the lesson," Houston said, "but some how, some way, she got me to trot around for a couple of strides. That was my best lesson that I had ever had and will never forget it."
Houston's riding career began in United States Pony Club, a national organization that focuses on horse management skills as well as English riding. Her parents were one of the founding families of the local chapter of USPC, Hilltop Pony Club. She and Spookers began training for Three Day Event, a competition requiring efforts in Dressage, Stadium Jumping and Cross Country. But Houston eventually decided to concentrate solely on Dressage, a rare decision for a junior on a form of riding that requires more mental concentration than thrill. In 2010, she competed in USPC Dressage Rally, with scores in the 70s. Her team won Reserve Champion, and Houston achieved her personal goal of qualifying for Pony Club National Championships.
But it was her accomplishments in 2011 that put her on the national scene.
"This past year has been amazing!" said Houston. "From the Bluebonnet show up to now, Spookers and I have received Champion and Reserve Champion ribbons, a lot of First and Second places, and a couple of Thirds and Fifths. At Region 9 Championships we came in Fifth in Southwest Dressage Championship (SWDC) and Sixth Overall for GAIG (Great American Insurance Group) in the junior training division."
Spookers also won USDF All-Breeds Award Reserve Champion, a national award encompassing all different breeds.
"Out of everything we have done and won this year, nothing compares to all the support and well wishes Spookers and I have received from fellow competitors," Houston said. At every horse show Houston attended, spectators and riders alike approached Houston with congratulations and admiration for her little black mustang, especially at Region 9 Championships.
"My horse has a fan club!" Houston smiled.
"My future goals are to continue riding through my high school and into college, to do it all with my fabulous mustang," Houston said. "This year has been a great one from all the shows to all the people I got to meet, and I hope that next show season will be better than the last one."
News