Ten Minute Trick- Making your horse enjoy leaving home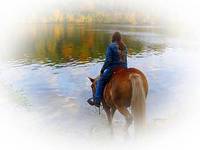 Leaving home can be a pleasure for you and your horse
We live not too far from a thriving Amish community. I have always been impressed with how willingly their horses leave home. No calling, no spooking at hundreds of possible "boogy men" and no wild race for home! What made their horses so good?
For years I just assumed it was because they used them until there was no "self will" left in the horses. And it is true that most are used regularly. But many are not and still seem to display that willing confidence I envyed for my trail horse.
To have her leave alone, to go out for a safe relaxed trail ride that she would enjoy as much as I, seemed like an impossible dream.
So I asked an Amish friend why his horses worked so willingly for him even when used solo in heat or bad weather?
His answer was simple...They have something to look forward to.
Yes they had to leave the comfort of stall and companionship, sometimes for long difficult work but one thing each horse knew was that "rest" was coming.
When they arrived at their destination a hitching rail and a long rest with new and interesting surroundings awaited them. Some families might provide them with feed or a blanket but they always allowed them "rest".
It does not seem like a strong motivator but it is our most common training motivation... We put pressure on the bit to ask our horse to "give". When he gives we give him "REST". We use our legs when he moves we give him "REST".
When we ask our horse to do something he does not want to do it is important that we give him the reward of "rest".
It may take some time to teach him that "rest" awaits but when understands he will become more and more willing to work, knowing that he can expect "rest".
For my mare that involved working her at home, leading her away from home as far as I could without her becoming anxious and then offering her a nose bag. She soon pulled me out our driveway anxious for our next destination, enjoying our rides as much as I do!
Now simply going for a trail ride or drive (she is also an exceptionally nice driving horse) with 10 minutes of her rider dismounting and sitting quietly is enough for her. She has her "rest".
Our horses have few demands and they are willing to do so much! Let's not forget to reward them with "rest" and we can enjoy going far with a willing and cooperative companion.
News