Ten Minute Trick- Making a Bombproof horse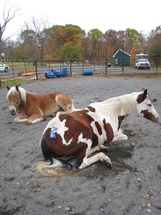 Every horse becomes bold when they can chase away their fears.
Every horse is afraid of something, but there is a natural method to embolden your horse in just a few moments without risk to the rider. It can be done entirely from the ground.
There is no substitute for the trust earned from spending time with your horse. But even the best horse has moments where they can benifit from a quick emboldening lesson.
This works for training a youngster or even older horses since it involves your horse's own natural curiosity.
To complete these excercises you may need a second person to help you especially if your horse is very timid.
The "Trick" to this training method is that horses do not fear what they can chase.
Tarps, tack, cars, driving equipment usually chase horses. We approach our horses with these strange objects and expect him to trust us and ignor the threat. But if we can take a few minutes and allow our horse to chase the objects first they become emboldened and no longer fearful.
What chases a horse is life threatening so we can not expect a horse to "figure it out" while he is at the risk of dying. We need to give them a chance to learn as they can understand it.
For instance to tarp train a horse we typically lay the scary object on the ground and walk our horses up to it. He will usually make those nifty "snuffy" noises and maybe dance around a bit. Suddenly a slight winds lifts the tarp and now it is chasing your horse! He naturally dances away from danger and you must start over.
Start this in a place that your horse is naturally comfortable.
Have a friend walk ahead of you with the tarp (or other scary object) and follow as close as your horse is comfortable behind. You will soon find your horse pulling you to get closer to the tarp (or other scary object, bike, excersise ball, ballons, umberllas, dogs, ATV, etc....) In most instances it will take less than 5 minutes for your horse to become curious or bored and you are ready to allow him to approach it.
Do not make the mistake of taking the object up to him! And do not assume that is the end but repeat the following and allowing him to walk up to it at least three times. Until he is relaxed about meeting the object.
You will know when you are finished because you will be able to walk the scary object along side your horse without fear and finally behind your horse with no reaction.You will probably be surprised at how quickly this happens for most horses.
If you are able, leave him loose in a paddock wtih the object for as long as possible.As he grows accustomed to "chasing his fears" you will find that it will only take seconds to acclimate him to new things. Provided you let him chase it and do not expose him to being chased.
This not only teaches your horse to chase his fears away it also encourages him to "think" about new objects. To our personal horses it has become a game and we have enjoyed seeing their new confidence as became the chasers of agressive dogs or blowing plastic grocery bags instead of the "victims".
We consider it a challenge to find anything that will spook our horses. They too look at fear as something to be chased away!
News