Starved horse on the trail to recovery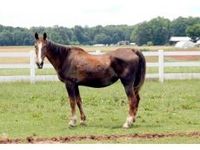 Horseclicks
A few short weeks ago, the brown mare was a bag of bones.
Her fur was falling out in patches and her body looked frail and skeletal.
The horse rescue group that took her in didn't know if she would survive.
In April, Cleveland County Animal Control seized the horse from a pasture on Cherryville Road after the owner had abandoned the animal, according to arrest warrants.
Roy Lee Dedmon, 67, was arrested and charged with misdemeanor cruelty to animals and abandonment of an animal.
District Attorney Rick Shaffer said he is handling the Dedmon case.
"It is pending and I am looking into how best to resolve it," Shaffer wrote in a statement last week.
A phone call to Dedmon was not returned Wednesday.
The horse, now renamed Baby, was taken in by the Horse Protection Society of North Carolina, a nonprofit in China Grove.
The rescue group takes in the worst cases and nurses the animals back to health.
"Our goal is to find good quality homes for them," said Joanie Benson, founder of the Horse Protection Society.
Benson said since April, Baby has put on weight, her fur is growing back and she is happy.
For a while, the animal's condition was touch and go. Benson didn't know if the mare would survive.
"We haven't dealt with a horse as sick as she was in my memory — and I've been doing this over 20 years — that lived," Benson said.
Baby had to have surgery. She was battling infections and was "just in terrible, terrible, shape," Benson said.
She had to hand-feed the mare special hay, in tiny portions, more than a dozen times a day.
Benson said if the horse is released to the rescue group, it will try to find a good home for Baby once she is fully recovered.
She hopes the owner will be required to pay restitution for the horse's care and will be required to do community service.
"The majority of (cases of horses) that come to the sanctuary in terrible condition don't get prosecuted," Benson said. "It's been proven time and time again that … people who don't take care of their animals and the animals sustain this kind of abuse, there is a key part missing from these folks."

Source: Gaston Gazette
Browse horses for sale or place an ad on Horseclicks now.
News