South Korean rider thrown from horse in London 2012 modern pentathlon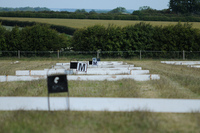 We loved watching the equine sports at the Olympics. There were plenty of joys to behold from the dressage and the showjumping, but the modern pentathlon was a very entertaining event too. Especially as the athletes are randomly assigned a horse 20 minutes before they are set to compete.
The five events in the modern pentathlon are fencing, swimming, riding and then the combined event, which involves running and shooting (not at the same time). And it was in the riding section, where athletes were required to jump over a course on a horse that they had only met 20 minutes earlier, that gave us one of the more exciting moments of equestrian events at the games.
Sometimes the pairing of an athlete with a random horse goes well, and other times it can end rather badly. One athlete to find this out at London 2012 was the South Korean Woojin Hwang. He was instantly thrown from his unruly mount, Shearwater Oscar, at the beginning of his ride.
In fact, it went downhill pretty quickly as Shearwater Oscar did not take kindly to a new face. He bucked and neighed from the off and when the rider refused to dismount, and then accidentally guided him into one of the obstacles, it came to a dramatic conclusion.
The horse had clearly decided that enough was enough and it bucked Hwang right off the saddle and the horse and rider went tumbling to the ground. Luckily neither the horse, nor the rider was hurt in the incident.
Hwang simply picked himself up and brushed himself down as Shearwater Oscar trotter around the arena, and he then got back on the horse and finished his ride.
He ended up scoring 734 out of 1200 points in the riding, and ended up 34th out of the 36th competitors.
See the video of the incident below:
News