Something strange happened between a goat and a horse. Cute!
News
•
Tuesday 27 January 2015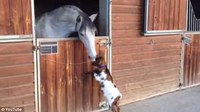 Farm owner captures goat flirting with horse
Love is in the air on a farm in the South of France, and it has been caught on video by farm owner Virginie Bourdes. What is unusual about this romance is that it is between her pet pygmy goat and her horse.
The video shows the goat, called Bibi, approach the equine and start trying to rub the horses nose affectionately with his own. However the horse is too high for Bibi, so he has to get up on two legs.
When this doesn't seem to work, he backs away and then performs what looks like a mating dance! This earns a few licks from the horse to his new friend. Watch the video below!
Want to see more cute horse videos? Have a look at this dog and foal playing tug of war.
News