Rise in Feed Prices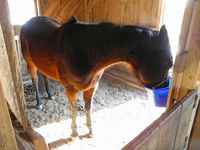 Look out for the rising prices on food this winter for your horses.
The price of soya have risen so horse owners are being warned to be prepared. The price has risen from as much as £280 a tonne to £400 a tonne. Further price rises are still possible.
Wheat yields are also down in somes areas of England, due to too much water affecting the crops quality.
Prices will be up during the winter so it will be difficult for horse owners this season.
Photo: 'Ano Lobb. @healthyrx'
Source: horseandhound
News