Riding Fear Free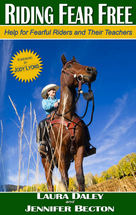 New Book Offers Real Help for Riders with Fear Issues
Many fearful riders have been searching for help in overcoming their fear so that they can finally achieve their horseback riding dreams. They've tried all the common advice--get a more secure saddle, take riding lessons, get the horse trained--but still the fear lingers.

Riding Fear Free: Help for Fearful Riders and Their Teachers, a new book written by professional horse trainer and PATH certified riding instructor Laura Daley and author (and fearful rider in recovery) Jennifer Becton, goes beyond the traditional equitation and horse training advice and straight to the heart of the matter by addressing the true problem: fear

Riding Fear Free explains how the scientific principles of fear extinction and memory replacement can be applied at the barn and under saddle so that you will never have another fearful ride. It also offers principles and sample exercises that riders and teachers can use to help themselves and their students to ride fear free by learning to rate their fear levels, see the reality of the situation, deal with emotions, and replace fear memories.

Using the principles in Riding Fear Free, hundreds of once-fearful riders are now riding fear free. By reading and applying these techniques, other fearful riders will be able to gallop joyously toward their dreams.

Riding Fear Free is available in ebook and paperback formats at Amazon, BN, and other major online retailers.
News