Remembering Jack, and Black Jack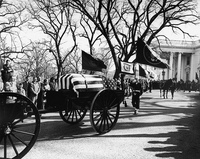 The 50-year anniversary of the assassination of President John F. Kennedy is this Friday. In memory of the president, the world spotlight is shining again on his final months in the White House and on the days that followed his assassination, including his tragic and iconic funeral procession.
Perhaps the most lasting image from his funeral procession is of his young son saluting his casket as it rode by. However, on the day of his funeral, news anchors weren't discussing his salute; instead, all eyes were on Black Jack.
Black Jack was the riderless horse in the funeral procession for John F. Kennedy. He is the most famous riderless horse in American history. Apart from President Kennedy, Black Jack served as the riderless horse for the funeral processions of President Herbert Hoover, President Lyndon B. Johnson and General Douglas MacArthur.
The reason he is so remembered is because of his "spirited" performance during Kennedy's funeral procession. According to his handler, he had been spooked a few days earlier by a gate crashing in a tunnel he was passing through. For several days afterwards, Black Jack became very difficult to control. During the entire procession, he was stomping and turning, moving his head and appearing agitated.
His handler managed to keep the horse under control, and he finished the funeral procession. Afterwards, Mrs. Kennedy requested that his saddle and tack be delivered to the White House for her. (They now reside in the John F. Kennedy Presidential Museum.)
Black Jack passed away at the age of 29. He is only the second horse in US History to be buried with Full Military Honors. His remains can be found at Summerall Field in Fort Myer, Virginia.
News