Queen's Diamond Jubilee Kicks off with horse show at Windsor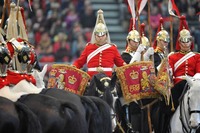 Horses
Queen Elizabeth II's Diamond Jubilee celebrations, marking her 60 years on the throne, kick off today at Windsor Castle with an equestrian extravaganza featuring hundreds of Her Majesty's favorite animal.
The thumping-big Jubilee events, including a flotilla of 1,000 ships floating down the Thames, are still weeks away, in the first weekend of June. But for the next four days, Brits will pay homage to their monarch and to the majestic horse.
"They're part of our makeup, part of our history and culture, and they have served us so well for so very, very long," says Annemarie Westwood, senior executive at the British Horse Society, which looks after the well-being of Britain's horses.
The queen raises, breeds, races and, at 86, still rides horses. Next to her clutch of Welsh corgi dogs, no other creature is more associated with her.
"Her Majesty has always loved horses — she literally talks to her horses, she knows the names of all her horses," Westwood says.
"They are obviously her great love. She is very relaxed and happy around them."
The annual royal horse show at Windsor Castle, a tradition for six decades, has been pumped up to mark the Diamond Jubilee with the theme "The World Comes to Windsor."
The pageant will showcase 550 horses and 1,000 human performers, including Mounties from Canada, Cossacks from Russia and cowboys and Indians (Lakota Sioux) from the USA. Presenters will include Oscar winner Helen Mirren, who played the queen in The Queen, singing sensation Susan Boyle and actor Martin Clunes (of PBS' Doc Martin), who is president of the British Horse Society.
Horses have been flown in from around the world — 110 Arabians from Oman alone — and tucked into temporary stables in Windsor Great Park, the "back garden" of the 900-year-old castle. In previous years, Westwood says, the queen has been known to walk around quietly observing the proceedings: "You'll be minding your own business, and suddenly you realize the queen is standing there next to you."
About 15,000 people are expected to attend; tickets sold out so quickly that organizers added a fourth day. The queen and her husband, Prince Philip, will attend Sunday. Princess Anne, a former Olympic equestrian, will kick off the ceremonies today.
Source: USA Today
News