Pigeon fever outbreak cancels NW Fla. horse event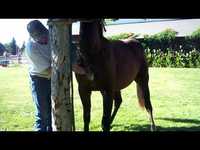 Horseclicks
An equestrian event in northwest Florida has been canceled after an outbreak of pigeon fever was reported in surrounding counties.
The Dixie Gulf Arabian Horse Association show scheduled Saturday in Baker has been canceled. Spokeswoman Linda Smith tells the Northwest Florida Daily News ( http://bit.ly/KWQfZE) that organizers wanted to stop the bacterial infection from spreading to healthy horses.
Pigeon fever gets its name from a swelling in the horse's chest muscles. It's believed to be caused by an organism in the soil that spreads to horses and livestock by flies and other biting insects.
Veterinarians say they've been treating an outbreak of pigeon fever in Okaloosa and Walton counties for more than a month.
Smith says a warm winter has led to an overabundance of flies that may be causing the outbreak.
Source: The Miami Herald
News