Oldham trainer works with Icelandic horses in Apassionata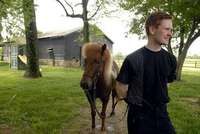 US Horses
Gudmar Petursson may be one of the only performers not flown in from Europe for Apassionata: The Beginning, the horse extravaganza that closes this weekend at Freedom Hall, but he and his horses still undertook a long journey from another part of the world to get here.
On his farm in Brownsboro, Petursson boards, trains and breeds Icelandic horses, a breed known for its multiple gaits, common sense and nice temperament.
Petursson is also Icelandic, working in the United States with a green card.
And after first coming to the United States more than 15 years ago, he has grown his Oldham-based business to also include riding clinics across the United States and in Iceland, educational trips to Iceland and an Icelandic horse farm.
And now he has a role in Apassionata, which found success in Europe before recently making its debut in Louisville, the show's first stop in the United States.
Petursson and his Knights of Iceland show team will soon hit the road on Apassionata's 18-month tour, adding one more thing to Petursson's list of accomplishments and business endeavors.
"You live in it somehow," said Petursson, 32. "It's something I've gotten addicted to."
In his office at the Gudmar Petursson Icelandic Horses farm near the Oldham-Jefferson county line, Petursson points to a photo on the wall of himself, his father and brother.
The trio and other family members first came to the United States in the mid-1990s for Equitana USA, the "world's fair of equestrian sports" that debuted in Louisville.
They had a booth promoting Icelandic horses and learned more about the area, which they liked.
"The U.S. was the market to be in," he said, adding that he soon realized how centrally located Louisville was and the breadth of equine expertise in the area.
So in 1999, he and his brother imported 10 Icelandic horses to Canada and then took them to the United States, in hopes of selling them.
This was followed by moving into a farm in La Grange and then getting his green card in 2006. He later moved his business to Brownsboro, which now boasts 30 to 40 horses, and lives in another farm on Halls Hill Road.
His operation is one of only a handful of Icelandic horse farms in Kentucky.
"It's still a young breed here," said the divorced father of two.
But through his work, he hopes to change that.
Icelandic horses are smaller than most other horses, averaging less than 5 feet tall.
But they are strong and are used as riding horses and working horses, along with in shows, breeding and therapy, he said.
"They are the only horses in Iceland, so they have been used for everything," he said.
The breed is also kept very pure. Horses that leave Iceland are not allowed to be brought back into the country.
On top of this, they are known to be very smart and easygoing.
This is why of the 13 horse breeds, made up of more than 40 horses, in Apassionata, the Icelandic horses are the equines that parade around the ring with sparklers attached to their legs.
The sparks do not hurt the horses, and considering the horses' strength, they would not perform with the sparklers if they did not want to and if they did not have that trust with the riders, Petursson said.
"It's a big, big effect. It's like fireworks running around the arena," said Meike Arnason, horse supervisor with Apassionata. "I don't know of any other horse that can do that."
Petursson had heard of Apassionata from its run in Europe, and last year, he began talking with the show's producers about taking part.
"It's more than just a horse show," he said. "The level of talent is so high."
Icelandic horses have been showcased in the European show, and when producers decided to bring it to the United States, they discussed who could fill the role, Arnason said.
"He was born and grew up with the culture and in the tradition of horsemanship," she said. "It's really great to have somebody with this experience."
Petursson rides Throstur, a black stallion, in the show, and he is accompanied by Icelandic riders Leo Hauksson and Anita Aradottir and American rider Caeli Cavanagh.
Hauksson, 19, came to the United States for the first time almost a month ago.
"I've never seen something like this; it's so big," Hauksson said of Apassionata. "I had never been out of Iceland … but now I'm going to see all of America."
Petursson will perform in many of the shows, but will then hand the reins off to his team so that he can come back and run his business in Oldham, teach around the world and make trips to Iceland.
"I like doing something exciting," he said. "It's not about making a living."
Source: Courier-Journal
News