Oklahoma's Horse Industry Generates $3.6 Billion in 2012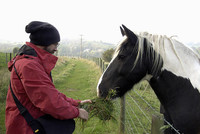 According to the Oklahoma Equine Alliance, the economic impact generated by the Equine Industry in that state reached $3.6 billion in 2012. That is a yield of roughly 35,070 full-time workers in Oklahoma.
Local horse ranches and companies show and compete in equine events, as well as breeding, boarding and training horses. The industry also impacts truck sales and service, the travel industry, veterinary medicine and agriculture.
Members of the Oklahoma Equine Alliance and state legislators gathered to recognize Oklahoma's thriving equine industry. The study conducted by the Oklahoma Equine Alliance determined that there was definite growth in the equine industry in the state from 2011 to 2012.
Oklahoma's equine industry is renowned worldwide for it's top tier horses, facilities and events. They are recognized as the Horse Show Capital of the World, because they're home to more than one thousand rodeo events, Quarter Horse races and other show events.
In order to continue this expansion into 2013, officials in the Oklahoma Equine Alliance are working to further improve facilities for future shows.
News