New Laws Against Killing Horses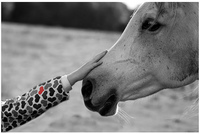 On the 21st September, the govenor of New Jersey passed a law to protect horses in the state. The law has made it illegal to kill a horse for human use or benefit.
The law also covers the movement of horse meat through the state which is now also illegal.
Other states that have already envoked this law are California, Illinous, Mississippi, Oklahoma and Texas.
Which state will be next to join?
Source: www.theexaminer.com
Photo by Maurice Spees
News