New Fantasy Horse Racing Game Finally Lets Users Take the Reins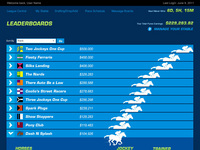 Horse games
J. Paul Reddam experienced the thrill of a lifetime when his chestnut colt I'll Have Another ran down favored Bodemeister to win the 138th Kentucky Derby on May 5. While there is nothing like owning a Kentucky Derby winner, a new fantasy horse racing game, MyFantasyStable.com, will provide players with the excitement and satisfaction of owning and managing a unique stable of horses, jockeys and trainers.
MyFantasyStable.com is unique among online sports games. It's the first fantasy horse racing game that offers players the opportunity to create a fantasy horse racing league with their friends and draft their own stable online. Players will draft a stable of 15 horses, two jockeys and two trainers and will be awarded the same purses that their stable members earn. MyFantasyStable.com users will manage their stables through November 3, making changes to their rosters and choosing a starting gate of horses, jockeys and trainers each week to earn the most purse money possible.
"Given the tremendous growth of the fantasy sports industry over the past decade, my partners and I were shocked when we discovered there were not any viable fantasy horse racing games in the online sports games marketplace," said Matt O'Neil, managing director of the HorseFan Group, LLC, a partnership of four Midwest racing enthusiasts. "MyFantasyStable.com will put horse racing on par with other online sports games as far as fantasy offerings and we're adding in some neat features to enhance the overall experience of owning a stable of horses."
MyFantasyStable.com will allow payers to build custom silks for jockeys to wear, adding the perfect touch to their unique stable of horses. Players will also be awarded virtual trophies to fill their trophy room when a horse in their stable wins a Grade 1 race.
League formation and drafting will begin by early August, but fantasy horse racing enthusiasts who are interested in getting in the game early can go to the MyFantasyStable.com website and sign up for game updates and information.
Source: The Sacramento Bee
News