More horses on Easton farm found in need of medical care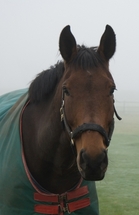 Three more horses in need of medical care have been found on an Easton horse farm, the Connecticut Post reports.
Appollonio 'Paul' Vittorio, 76, the owner of the horse farm in question, was arrested in January and charged with counts of cruelty to animals after more than 20 horses were found with untreated medical conditions on the farm.
As reported by the Connecticut Post, since then, three more horses have been found in need of medical attention and Vittorio has withdrawn his 'application for accelerated rehabilitation'.
Ray Connors, supervisor of the state animal control division of the Department of Agriculture, said that this case is the largest case of animal cruelty his office has handled.
The state control officers reportedly found 92 horses on the farm owned by Vittorio, although there was only appropriate shelter for around 30 of the animals.
Vittorio has contended that the allegations against him are false.
The next hearing of this case is scheduled for July 12.
News