MiniHorseSales UK & USA Day summer show.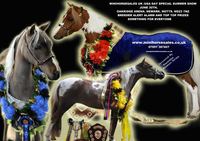 June 30th at Oakridge Arena - Newark, Notts, sees an invasion of miniature horses, all gathering with one intention, to share the spotlights at the MiniHorseSales UK & USA Day summer show. We have more sparkle and pizazz than ever seen before!

This year sees us upgrade to 3 rings, and over 100 classes with some very competitive titles to be won. We have been extremely fortunate to have had the help of some amazing corporate sponsorship, none of this would have been possible without Simple Systems, Verdo, Breeder Alert and Shwmae Products to name just a few, sponsorship has been amazing from all over the world, reaching as far as the USA!

We promise you an action packed day out full of fun for everyone, but also a serious spot of showing as we also have qualifiers for all of the major shows throughout the UK, ie RIHS, MHOYS, MHCGB Grand Champs, Royal London and Equestrian Life. There is certainly something for everyone here in a fabulous fun filled happy atmosphere.

The MiniHorseSales Charity Tombola is always a massive hit, last year we raised £600 for the Kidney Care Appeal, with many wonderful and top prizes generously donated from all over the UK. Please pop along and help support this worthy cause by purchasing a ticket or two.
All proceeds from the Best Condition Class will also be donated directly to Kidney Care Appeal, and Pure Feeds have an amazing offer with a special coded voucher for everyone who attends the show to help bump up the fundraising pot.
Why Kidney Care? The show organiser was diagnosed with Nephrotic Syndrome 3 years ago, and is determined to give this charity as much help as she can.
Without them, we wouldnt be having this show.

Minihorsesales LTD started off as a humble sales page, we have evolved quickly with our online shop, annual shows, our VIP clinics, and most recently the proud announcement of our trademarked Frollar™ presentation sets.

Schedules, entry forms and all info available at www.minihorsesales.co.uk
News