Man killed by horse near Saratoga Springs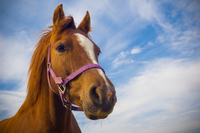 A 64-year-old upstate New York man has died after being kicked by a horse, according to the Times-Union of Albany.
The victim was attempting to corral the escaped animal when it leaped and struck him with its hooves.
The emergency officials told the Times-Union that James Bodnar was driving near Saratoga Springs on Thursday evening, when he noticed that two horses had escaped from a nearby farm.
Bodnar stopped his car to help a friend bring the horses under control and whilst doing so, one of them charged and jumped over him, striking him in the chest and head.
The Schuylerville resident went into cardiac arrest and later died at a local hospital.
News