Man gets too close to stable…watch what happens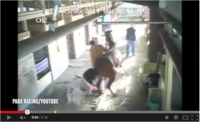 A man in Philadelphia got a little too close to comfort at Parx Racing when he was nearly bitten in the face by a horse.
The mare clocked the worker as he was too close to the stable, even though there was a cone in the way to warn the worker. The horse was inches away from causing a lot of damage to the man. In the video the man throws a buckle of water of the horse as a plot of revenge.
People of the equestrian world say that anyone working in a barn should know what the cone is for- don't blame the horse!
What do you guys think?
News