Looking after an older horse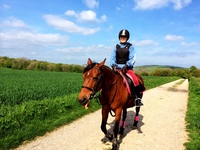 Looking after an older horse
If you have an older horse that is in their 20s you will find that you have to work them differently. It's no different to when we grow older, we all start to slow down a little bit but if looked after properly they can enjoy a productive career or enjoy being a happy hacker!
Here are some top tips of how to look after your senior horse….
Always give your horse a daily check over
As your horse is getting older you need to check them over daily and make sure that they are fully awake and aware of what is going on ; Are they drinking enough water and are they eating regularly?
Always stretch out their limbs
After you have tacked up you should stretch out their limbs loosening their joints so they are able to move around easier without getting too much pain in their legs. Think of it the same as human, before you would go out for a run you would stretch your legs out so you don't injury yourself.
Listen to your horse
Always listen to your horse, don't push them too hard. Start with some work in hand and then see what your horse can handle. Remember, always be flexible in your approach

Don't give them too much exercise
They aren't going to be able to cope with the standard workload of a younger horse. A good place to start is with some circles to warm up the body muscles, as mentioned before always stretch out the limbs to as it's very common for older horses to get arthritis. Always give them more walking breaks, this will help their legs more. If they are able to have a canter or even a gallop do this but in-between give them lots of walking breaks. The key is to only do shot speed more and more interval training.
Always make sure they are hydrated
A senior horse will get dehydrated a lot quicker than a younger faster horse, a good way to check is their gum colour and see if there is enough moisture in their mouth.
The right food is key
An older horse digestive system slows down and they find it hard to digest and absorb the nutrients. There are lots of different pasture supplements out there with high quality hay that they will find easier to chew.
Love your horse
As always show as much affection to your horse. Give them love every single day with praise and extra pats; they will love that!
News